Extinction Rebellion in London/Britain/Europe
Extinction Rebellion is a group with origins in the Northern Hemisphere and of a recent pedigree which is focused on the dangers of climate change. It is a group that considers that marches, protests and other activity which does not challenge the status quo to be of little impact to our current status quo (which it has to be said is insane) and that the only way forward for the changes that this planet needs is for climate change protestors to get arrested and to be prepared to go to prison. Here is a video featuring one of their co-founders, Roger Hallam, on this topic;
We can't get arrested quick enough
Last November as you can see from the above video they shut down several bridges in London and several people were arrested as a consequence of that action. But its organisers want more arrests and for a proportion of their activists to go to prison as they perceive this as being necessary for social change. They have not left it there and are right now making quite a lot of news in the United Kingdom (especially in the Guardian and Independent both of whom are featuring them heavily) as they try and shut down various roads including right in the centre of London at Piccadilly. In the last few days they have targeted Heathrow Airport (air travel, as it is currently, is not at all compatible with a sustainable planet something that NZ, reliant on tourism, has so far completely failed to address).
Extinction Rebellion on The Guardian website
Extinction Rebellion at Heathrow Airport
There are some accusations that they are too 'white'. For example there's two women at about the 3:17 mark of the following video who claim this. If you're as cynical as I am you'd probably ask who the guy with the phone is on the left of the frame (from 3:09 to 3:12) and how often these two fly (as well as asking what the yellow jacket says). But hey that's for you to decide;
Extinction Rebellion protest, London
Extinction Rebellion (UK division) seem to have met this sort of rhetoric head-on, and kudos for them for doing so, these four are the young protestors chosen (as young as 13) to represent Extinction Rebellion at Heathrow Airport yesterday;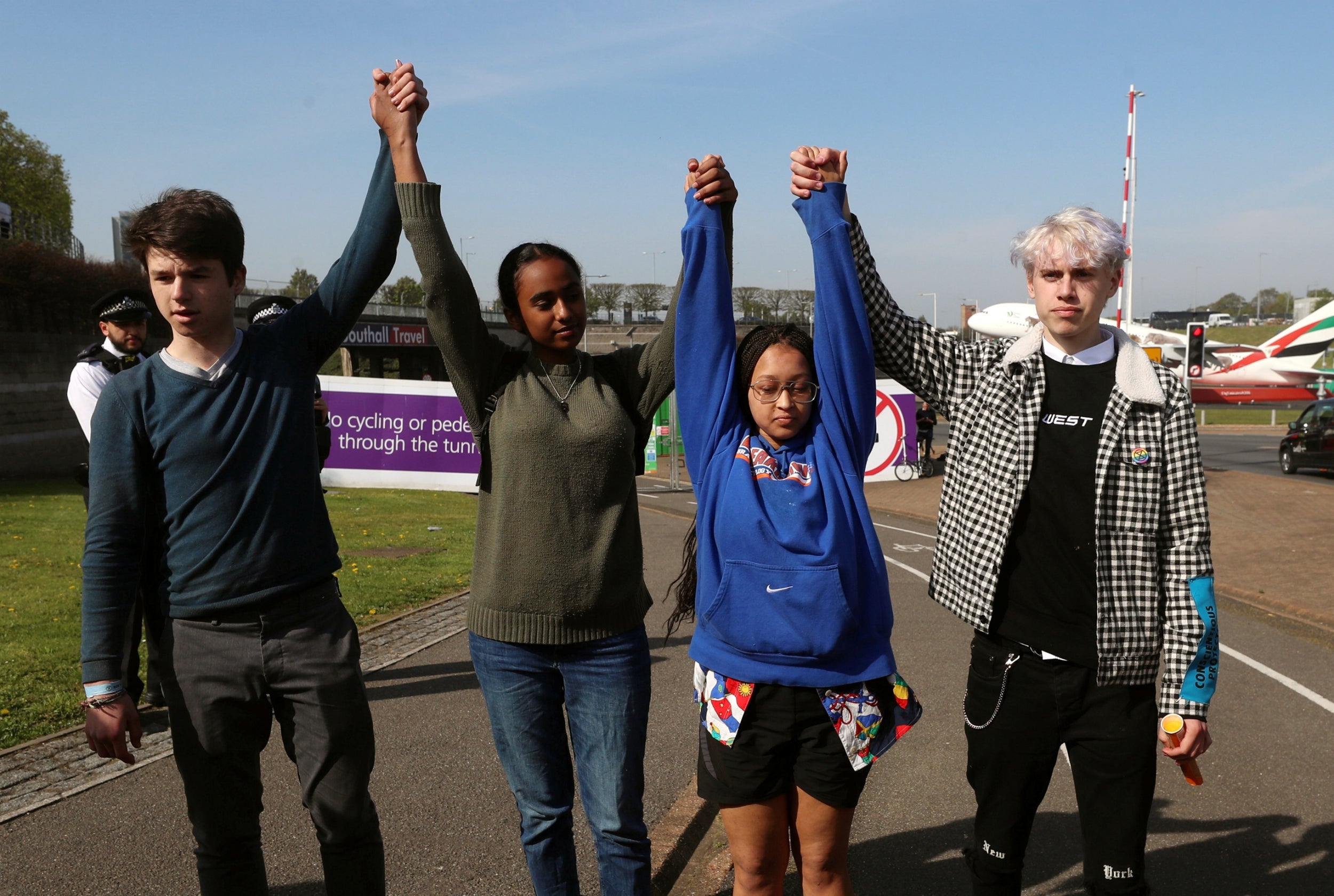 So it's definitely ramping up in the United Kingdom. So much so that you wonder if Teresa May is soon to be irrelevant (and maybe Jeremy Corbyn too).
Meanwhile in Aotearoa this is the state of Extinction Rebellion in Dunedin yesterday.;
Jolly good ol' chap, care for a wine?
Yes you see right. To me it almost looks like something from some sort of colonial reenactment or a scene from the 'The Piano' (a terrible movie in my view but let's not get distracted). Imagine if those two women at 3:17 above had concentrated their efforts at Anderson's Bay in Dunedin instead of the middle of London!
We (Aotearoa/NZ) may have a very progressive image these days with newspapers the world over falling over themselves to laud Jacinda Ardern (whose report card in reality is a bit of a mixture so far, see the decision on Capital Gains Tax yesterday) but we are still well behind most of the world when it comes to action on Climate Change. And it's really not hard to see why. Most of NZ's "progressives" (including its "Greens") are currently fighting a completely different war, that of "safe spaces" (a.k.a. censorship of dissent) and transgender rights to women's spaces from sports to toilets to gyms to schools to lesbian dating to prisons (so not so safe for girls/women). That's an issue that will undoubtedly sow division and is also one that you would almost swear was majorly funded by oil companies and the like. But a search on Extinction Rebellion's international site has not one mention of this topic. And that's exactly how it should stay.